International Symposium on Molar Hypomineralization & Chalky Teeth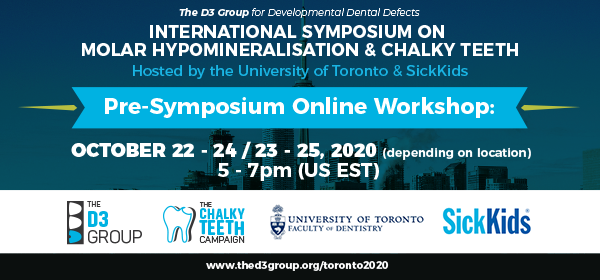 Registration is open for D3G's Pre-Symposium Workshop on Molar Hypomineralisation & Chalky Teeth – a breakthrough translational event happening in this 100th year of chalky enamel research.

As you may know, The D3 Group (D3G) for developmental dental defects (D3s) and the Chalky Teeth Campaign planned to hold the inaugural International Symposium on D3s at the University of Toronto and SickKids hospital, Canada, on October 22nd – 24th (now postponed to 2021).
Due to COVID-19, the live event has been transformed to an interactive webinar, with three 2-hour sessions – totalling 6 CE hours – on those same dates (22-24 or 23-25 October depending on location – see below).

What's the Workshop about?
As explained online :
Outline D3G's unique cross-sector network, translational accomplishments, and breakthrough discovery about pathogenesis of Molar Hypomin 
Formulate key questions and identify collaborative projects aimed at alleviating the global burden of Molar Hypomin & other D3s
Develop a ground-breaking Discussion Framework to guide advancement of the D3 field 
Aspects to be covered include:
Population health and clinical management
Research and education
Science translation through to improved policy & products
Who's presenting?
31 contributors representing 14 countries and 15 organisations have confirmed already (more coming)
Includes dental professionals (paediatric, orthodontic, public health, hygienist/therapist), career scientists & translators, paediatrician & industry
What's in it for me?
A world-first opportunity to learn from D3G's unparallelled global constituency
Fascinating perspectives you'd never thought about, no matter what your daily grind is
Pride from helping shape the future through contributing to the Discussion Framework guidelines
6 hours of continuing education (CE) or continuing professional development (CPD)  – quiz-tested 
Timing for my part of the world?
Toronto dates/times (US-EST) are Thu/Fri/Sat October 22nd-24th, 5pm – 7pm
How do I register?
Workshop registration, located at the top of the JOIN D3G page, is discounted for D3G members and those from lower-income countries. You can easily join D3G as part of the registration process (no additional cost).
Any questions?
Please don't hesitate to contact us or visit www.thed3group.org/toronto2020