2nd Tri-Regional Meeting 'A New Smile for Africa'
of the International Association of Paediatric Dentistry (IAPD)
Meeting Venue: Hotel Intercontinental Nairobi
Dates: 18 – 20 January, 2019
The 2nd Tri-Regional Meeting of the International Association of Paediatric Dentistry (IAPD) was held 18-20 January, 2019 in Nairobi, Kenya. The theme of the meeting was "A New Smile for Africa." This meeting followed the very successful Regional Meeting that was held in Johannesburg in March 2018 with the aim to continue building relationships between the countries in Africa.
The IAPD Regional Meeting, is the most prestigious meeting for Paediatric Dentistry in Africa, The meeting was organized by Kenya Association of Paediatric Dentists, with the collaboration of the Nigerian Association of Paediatric Dentistry and the Paedodontic Society of South Africa.
There were 80 participants at the meeting. The delegates to the meeting were drawn from far and wide from: Australia, Denmark, Egypt, Ghana, Egypt, India, Ireland, Kenya, Nigeria, Portugal, Qatar, South Africa, Sudan, South Africa, Uganda, USA and Zimbabwe. It was exciting to see the majority of the Kenyan Paediatric Dentists and all the postgraduate students attended.
There were speakers from India, Denmark, Ireland, Nigeria, South Africa, Sudan, and our very own Kenya, who presented topical issues on Paediatric dentistry. The topics ranged from Dental Caries and its management, Orofacial and Dental Trauma, Biomaterials, Rare Oral diseases and Cleft lip and palate, among others. Of particular interest was "Infant oral Mutilation" the topic that garnered a lot of awareness and buzz. It was alarming that this practise is widespread in Africa with disastrous outcomes in the paediatric population. An important point of action raised to IAPD was the need to start campaigns to eradicate Infant Oral Mutilation.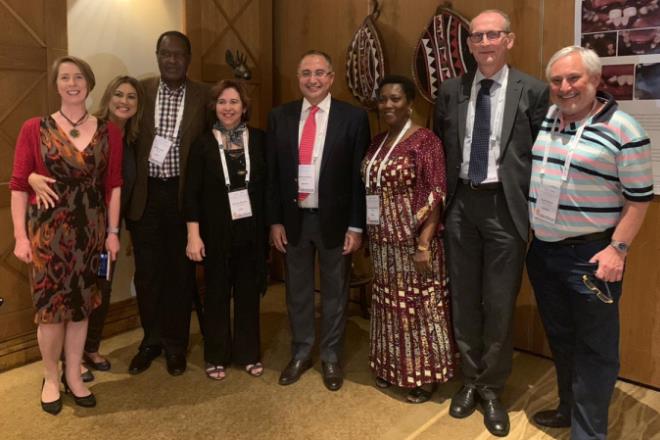 We also had 10 poster presentations with the winning poster elected to Dr. Norman Musinguzi from Uganda whose topic was "Prevalence and Effects of Infant Oral Mutilation among 3-5-Year Old Children from a Rural District in Uganda."
During the discussion panel it was noted that there was a need to work with community health workers to foster health education. Cultural competence was observed to be required e.g. translating prevention information in local languages. Associations were encouraged to mentor and motivate dentists to specialise in Paediatric Dentistry.
Importance on Inter-professional collaborations to improve health outcomes was also mentioned.
The IAPD was encouraged to start campaigns to eradicate IOM. We were also challenged to invite WHO and other decision makers and providers of funding into our meetings so that we can learn about opportunities available to get funds to further oral health research, education and clinical practice. Those involved in UHC were challenged to ensure that oral health is included. Professional associations were willing to support and push this agenda.
Prepared by:
Dr. Nicholas Gichu
Chairman
Kenya Association of Paediatric Dentists