In Memoriam: Professor Gerald Z. Wright
The International Association of Paediatric Dentistry mourns the passing of one of its most prominent leaders, Professor Gerald Z. Wright.
Professor Wright was a pioneer in pediatric dentistry. Through his five published textbooks he shaped and defined behaviour management in dentistry for children.
Professor Wright or as he was known by his friends and colleagues Gerry, was the longest serving IAPD Secretary General, holding office from 1999 to 2011. When he took over, the IAPD was experiencing difficult financial times with barely enough funds to cover a year's expenses. Through prudent management, he improved the resources considerably. Gerry was involved in moving the IAPD secretariat offices twice: once in the UK and once to Switzerland. He initiated the Dentists for All Children program (DENFAC) which assisted academics in low-income nations. He arranged for the IAPD to have a fixed scheduled symposium at International Dental Federation (FDI)'s World Dental Congress on a cost‐sharing basis and initiated the IAPD Regional Meeting conferences. Gerry was instrumental for the continued growth of IAPD membership and increased cooperation between participating nations. In 2015, the IAPD Board of Directors bestowed upon Prof. Wright Honorary Membership which is awarded to a limited number of distinguished people who have made extraordinary contributions to realize the objectives of the Association.
Teach the Teachers Workshop in Georgia
The IAPD & the Georgian Association of Paediatric Dentistry (GAPD) conducted a successful Teach the Teachers Workshop on November 4th, 2019 at Tbilisi State University, Georgia.: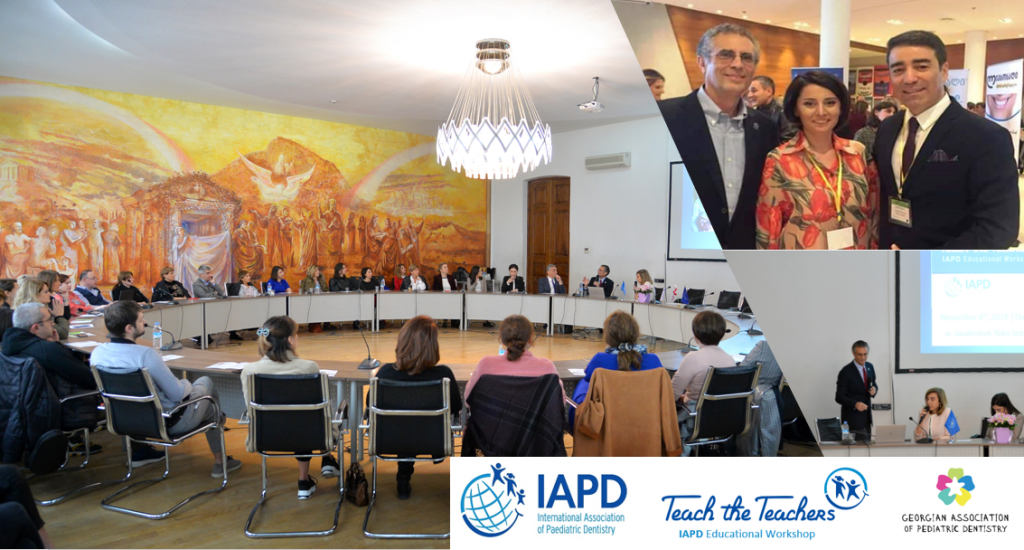 Four universities participated. There were many great discussions between academic leaders and the programme included presentations by:
We would like to thank our sponsors for their generous contribution towards the TTEW:

Are you interested to host a TTEW in your country? IAPD National Member Societies may contact the IAPD Secretariat ([email protected]) and officially request to host a TTEW (please address the email to the Secretary General).
Click here to read about TTEW in a popular Georgian Media outlet.
Translation of the ACFF /IAPD Infographic
Following the translation of the Early Childhood Caries: IAPD Bangkok Declaration, we are proud to announce that the infographic created by ACFF and IAPD with recommendations to reduce the prevalence and burden of Early Childhood Caries worldwide will be translated as well. National Member Societies interested in translating the infographic may contact the IAPD Secretariat at [email protected] for more information.