Sneak Peek at Cape Town, IAPD 2025 Host City!

Captivating Cape Town Awaits You in 2025!
Congress Dates: 22-25 October 2025
Mark your calendars for a transformative experience at the 30th Congress of the IAPD in 2025, hosted in the breathtaking city of Cape Town! Get ready to immerse yourself in a world of innovative ideas, groundbreaking research, and unparalleled networking opportunities, all against the backdrop of one of the most beautiful and vibrant cities on Earth.
The Venue: The event will be held at the state-of-the-art Cape Town International Convention Centre (CTICC), a cutting-edge venue renowned for its world-class facilities and breathtaking views. Experience comfort and sophistication as you engage in dynamic discussions, attend insightful workshops, and witness groundbreaking presentations in this iconic setting.
Interested in exploring the venue? Take a virtual tour right here!
Take a Sneak Peek at Cape Town with Our President
Professor Figen Seymen made a special appearance at the SADA Oral & Dental Health Congress & Exhibition from August 25th to 27th, 2023. She took centre stage during a dedicated session on Paediatric Dentistry, generously hosted by SAAPD. In anticipation of the 2025 IAPD Congress, she seized the opportunity to explore the remarkable CTICC venue and the beautiful host city of Cape Town.
Cape Town is a city that will capture your heart and imagination. Join IAPD in 2025 to explore a city that seamlessly blends natural beauty, cultural diversity, and modern infrastructure.  
Start planning your trip to South Africa NOW!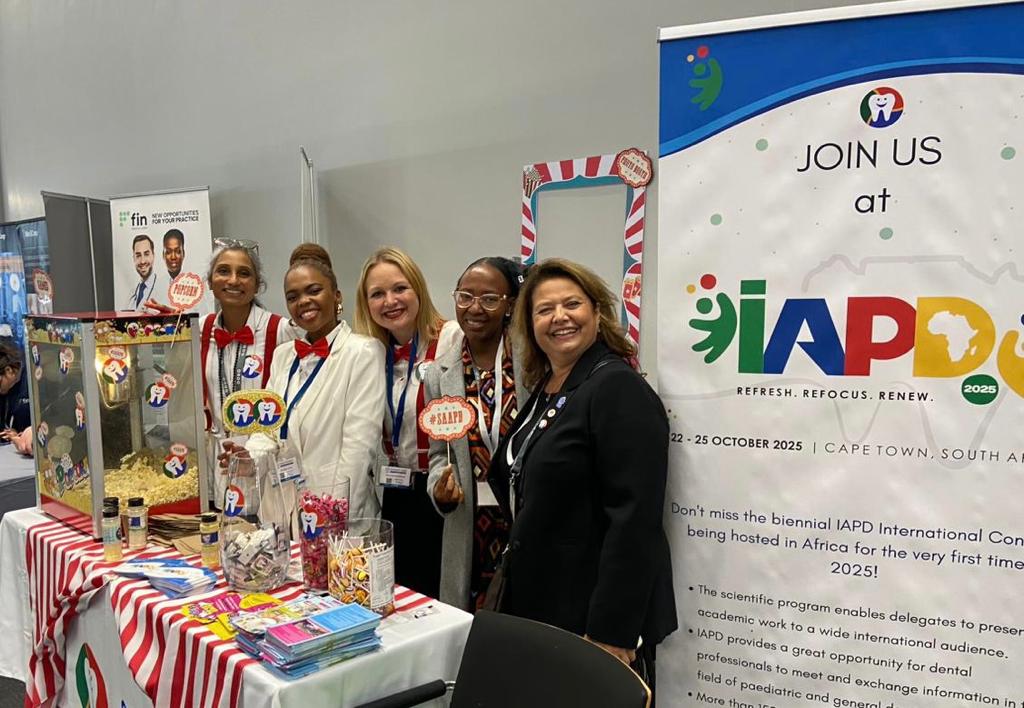 Ravena Naidoo (Provincial Branch manager of SAAPD), Gqobisa Kate (Provincial Branch manager of SAAPD), Nicoline Potgieter (SAAPD Scientific Programme Chair), Tshepiso Mfolo (SAAPD), Figen Seymen (IAPD President)
Highlights from IAPD's Participation at FDI WDC23 in Sydney, Australia
IAPD had a significant presence at the FDI World Dental Congress (FDI WDC23) in Sydney, Australia, from September 24th to 27th, 2023, hosted by the Australian Dental Association. Prof. Richard Widmer, a dedicated IAPD member and past president, delivered a well-attended session on Paediatric Oral Pathology during the event's rich scientific program.
Our President Elect, Dr. Soni Stephen, represented IAPD at the 2023 Parliament and General Assembly. 
Our pride swells to see prominent IAPD members and volunteers take part in the World Dental Congress of the FDI. The President Elect embraced the opportunity to engage with committee members like A/Prof. Dimitris Emmanouil (Greece) from the Finance Committee and Prof. Nakano Kazuhiko (Japan), who wears many hats including the IAPD Awards Committee, JSPD International Affairs Committee, and Kansai Branch President in Japan. As we look ahead, with the 2027 IAPD Congress set for Osaka, Japan, the wheels of planning and discussion are already in motion. This event also provided a platform for enriching discussions with other prominent IAPD members such as Prof. Christopher Vernazza, the BSPD Editor and Dean of Newcastle Dental School in the UK, Dr. Anne O'Connell, a Past IAPD Editor and member of the IAPD Education Committee among other remarkable individuals.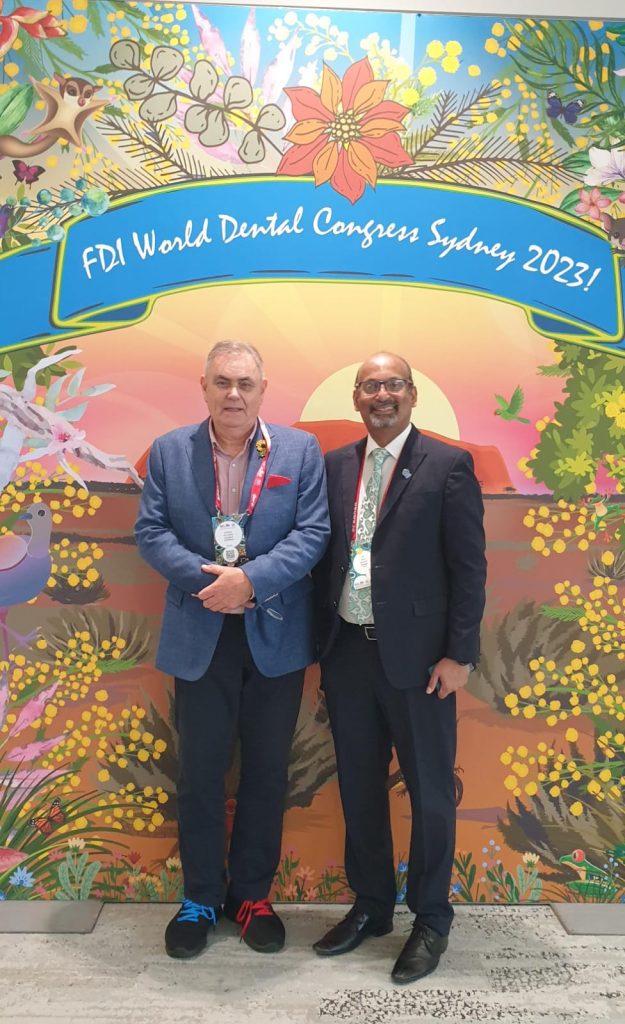 A/Prof. Richard Widmer (IAPD Past President) & Dr. Soni Stephen (IAPD President Elect)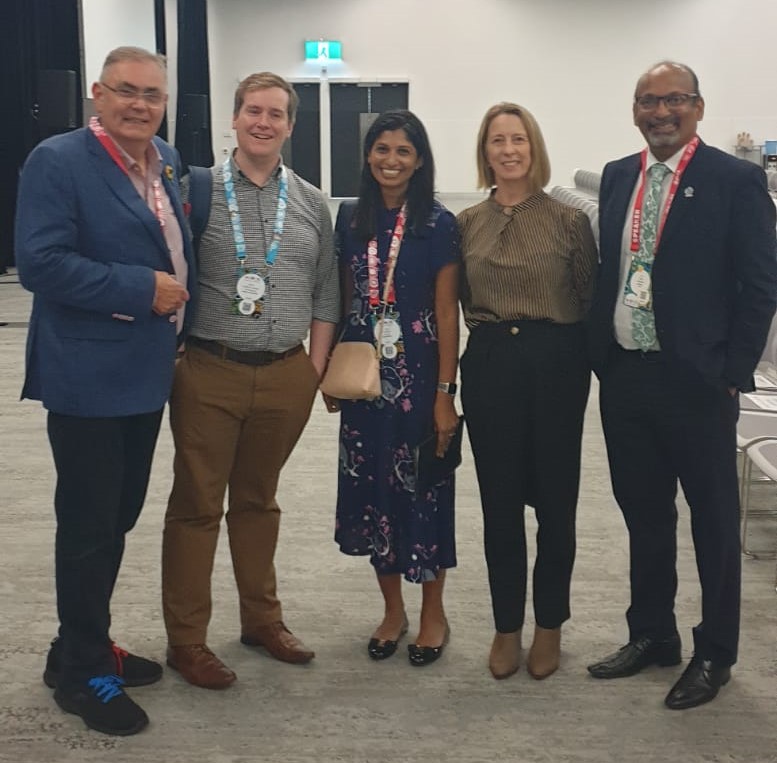 Richard Widmer, Christopher Vernazza, Mihiri Silva, Anne O'Connell, Soni Stephen
Spotlight on IAPD Consensus Recommendations
Did you read the IAPD Consensus Recommendation on Management of Ankyloglossia yet? This is a free resource developed by the IAPD Science Committee, available in English, French and Spanish and Italian! 
Tongue-tie, or ankyloglossia, is a condition where the lingual frenulum (tissue beneath the tongue) is abnormally short or tight. It can affect speech and feeding in children. Diagnosis involves assessing the frenulum's structure and function, ranging from a visual check to a detailed classification system. Ankyloglossia occurs in 0.1% to 11% of newborns, with male gender and family history as risk factors. It can cause breastfeeding difficulties and maternal nipple pain. Recently, focus has shifted to improving breastfeeding through frenotomy (simple incision) instead. This procedure, however, has potential complications, including bleeding, airway obstruction, and scarring. Read the full IAPD Recommendation on this topic now!
Hungry for More? Join IAPD
IAPD Members have access to 300 past lecture recordings in the IAPD Video Lecture Centre. See two videos on the topic:
Tongue Tie from a Paediatric Dentist-IBCLC (

By Dr. Camila Palma – 2023)

Feeding, speech and Tongue ties: A contemporary approach to a common problem (by Dr. Angus Cameron – 2020)
IAPD  members in good standing can access all the material in the Video Lecture Centre. Renew your membership or Join us now!
Join Us for the Next IAPD Webinar
Join us for the next IAPD Webinar with Dr. Juan F. Jepes on Sunday 29 October at 12:00 UTC. 
The biggest, unique benefit of joining a live webinar is the way in which content is explained: unlike recordings or other online educational material, the presentation of a webinar is more intimate. It almost functions like a personal tutoring session with feedback, questions, and engagement between the audience and the presenters.
Register for this webinar today!
Upcoming IAPD National-Member Society Events