IAPD Fellowship | Applications Close on
31 March 2023

The online exam will take place on the 25th of April 2023!
It is open to IAPD members in good standing and will be designed to test knowledge, and as such forms part of the overall assessment of training.
If you have any questions about the new exam, we would be happy to answer them, please email: [email protected]
On 22 January 2023 the IAPD hosted an information session about the fellowship, follow the link below to watch the webinar.
Are you ready to apply for the IAPD Fellowship, but have too few CE credits?
IAPD Fellowship applicants are required to have accumulated at least 16 CE credits during the last 24 months. 
To support those in need of a few more hours, IAPD created a special feature in the IAPD Video Lecture Centre: IAPD members in good standing can now earn CE credits by accessing the IAPD Video Lecture Centre. After watching recent IAPD lectures from the video library, downloadable e-certificates will be available.
Join us for the IAPD Congress in Maastricht, June 2023
Abstract Submission Extended to 10 February!
Remember that there are several awards to be granted at the IAPD Congress in Maastricht this year. The abstract submission deadline has been extended to 10 February 2023. Be sure not to miss out on this opportunity to apply for an IAPD Award! Read more about the IAPD awards here to see if you are eligible. 
Bengt Magnusson Memorial Prize in Child Dental Health

Bright Smiles, Bright Futures Award by Colgate

Sam Harris Travel Bursaries

Jens Andreasen Award
Nu Smile Restorative Dentistry Awards – Case Report & Research Report

Morita Award – Case Report & Research Report

Paediatric Dentistry Working Group Travel Bursaries
2022 Consensus Recommendations

Understanding the Quality of Evidence Indicators and Global Agreement Associated with IAPD Recommendations. Consensus-based Statements rely on evidence from expert opinion of the IAPD Science Committee or other expert opinion documents, such as AAPD Best Practices documents. Consensus-based Recommendations rely on published high-quality evidence such as clinical trials, or meta analyses of clinical trials.
Each IAPD Consensus-based Recommendation or Statement was evaluated to determine applicability to global clinical practices. Seventy-nine IAPD members, distributed internationally, reviewed the guidelines and rated the recommendations using a 9-point Likert Scale, from strongly disagree to strongly agree. The average number of evaluators for each recommendation was 23.
Click Here to View this Free Resource.
Nominations for Positions of the IAPD Board of Directors 2023-2025 Are Open
Call for Nominations for Officers of the 2023-2025 IAPD Board of Directors
The deadline for applications: 4 March 2023 at 00:00 UTC
Calling all National Member Societies
Submit Your Reports for the IAPD Annual Newsletter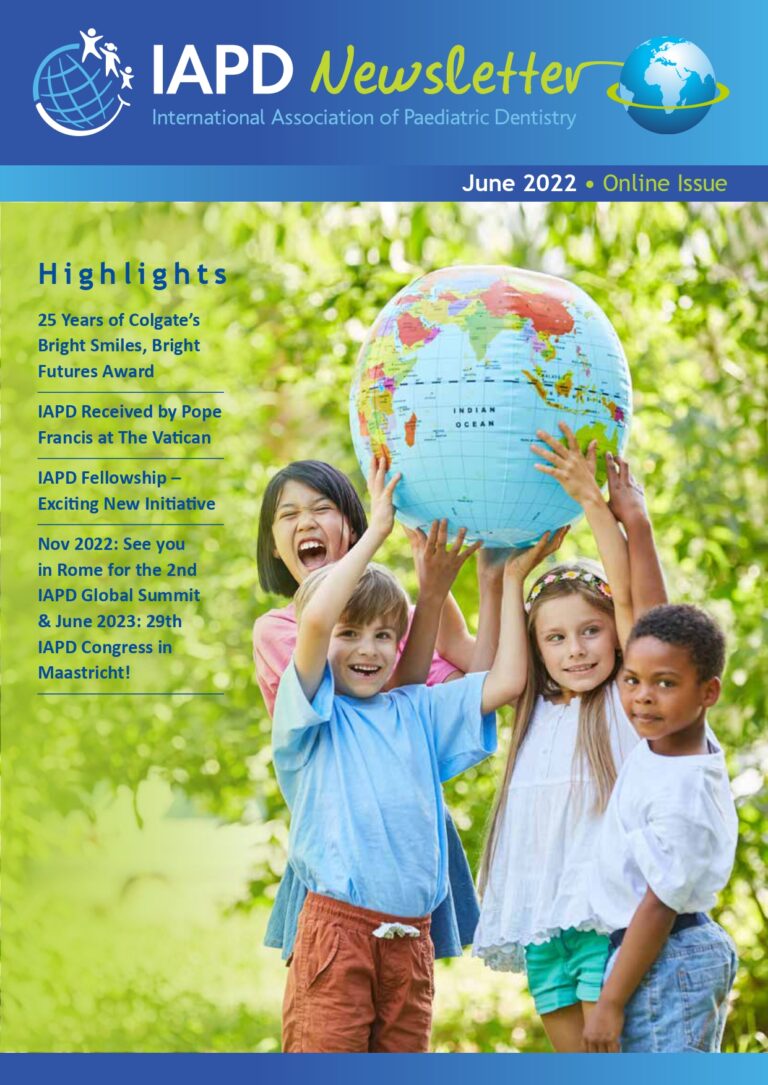 You have to sign into a Google account to submit your response (security feature)
As always, the 2023 Newsletter provides a space for short reports by National Member Societies with the aim of sharing your activities, news, and best practices in 2022/2023. Send us a 300-word summary of your society's year in retrospect.
The Newsletter is a way to capture memories in digital format that we can later revisit, so don't miss the opportunity to showcase your society!
Click here now to submit your report today. The deadline to submit the report online is now Friday, 28 February 2023.
You will be required to sign into a Google account to submit the form (this is a security feature).
To see our 2022 Newsletter click here.
Note: Your National Society membership has to be current for the report to be in the Newsletter. We can help you to bring your dues up to date, contact us at the email below.
If you need any further information or assistance, please contact [email protected]
Join us for the next IAPD Webinar