Join us at Gala Dinner at the 2nd Global Summit in Rome!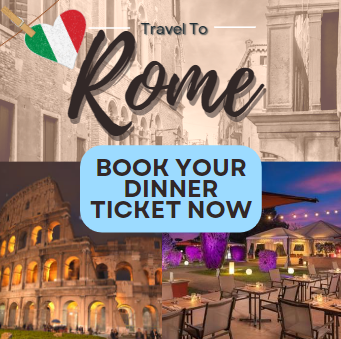 EUR 95 p.p. | Golf Club House, Sheraton Hotel
Saturday, 12 November, 2022
The Gala Dinner at the IAPD 2nd Global Summit will be a remarkable Italian experience! Join us for a relaxing evening of food, fun and networking after a productive day. Attendance requires the purchase of a ticket; the Gala Dinner is not included in the standard registration fee. 
The Sheraton Parco de' Medici has an impressive Golf Club with a 27-hole Championship Golf Course, more than 80 hectares of greenery and a beautiful view of the greens and lakes.
If you have already registered for the Summit, please kindly login to your profile (link in your confirmation email) and book your ticket!
If you have not registered for the summit, click on the button above to register and book your ticket for the Gala Dinner.
IAPD Fellowship Examination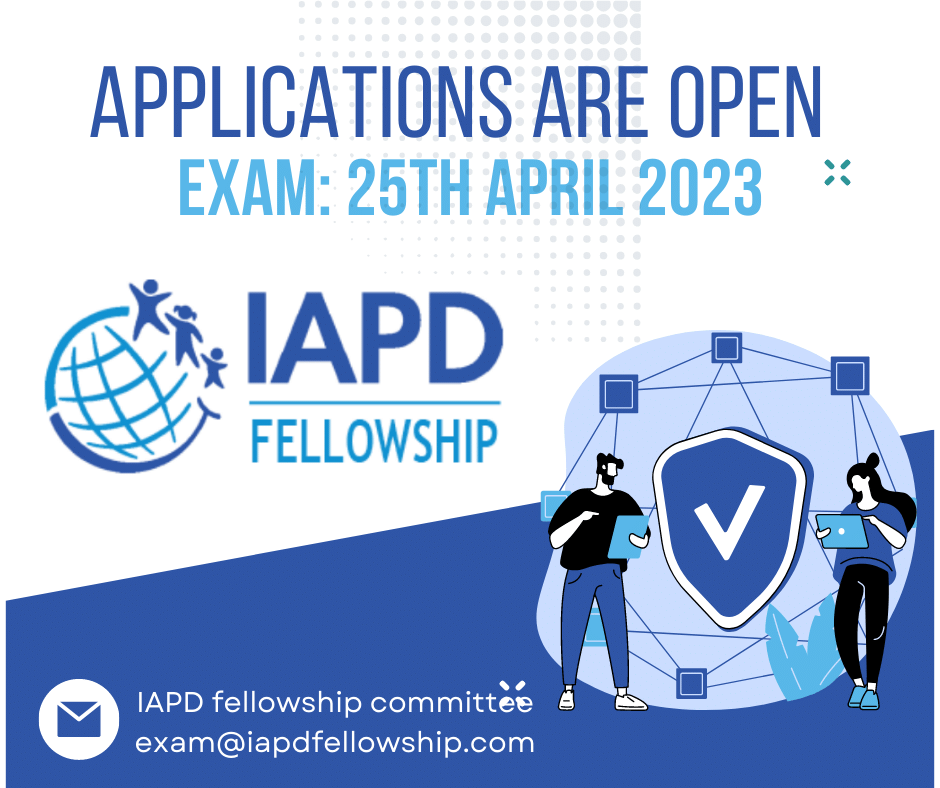 The IAPD Fellowship Exam has been launched! The online exam will take place on the 25th of April 2023!
To achieve the IAPD Fellowship certificate in Paediatric Dentistry the following requirements have to be met: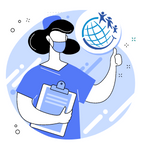 Graduation & IAPD Membership
Graduation from a dental school recognized by the appropriate authorities of the country of the applicant & current professional member in good standing of the IAPD.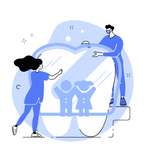 License to Practice
Possession of a valid, unrestricted state license to practice dentistry & practicing exclusively or with a significant emphasis in paediatric dentistry for at least 3 years.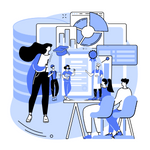 Verification & Commitment to Lifelong Continuing Education
Verification of attendance at local, regional or international meetings sponsored or co-sponsored by IAPD and/or its National-Member Society with a minimum of 16 hours of education in topics relevant to the practice of paediatric dentistry.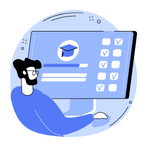 Successful Exam
Completion of the Fellowship examination covering comprehensive oral health care for infants, children, adolescents and special needs.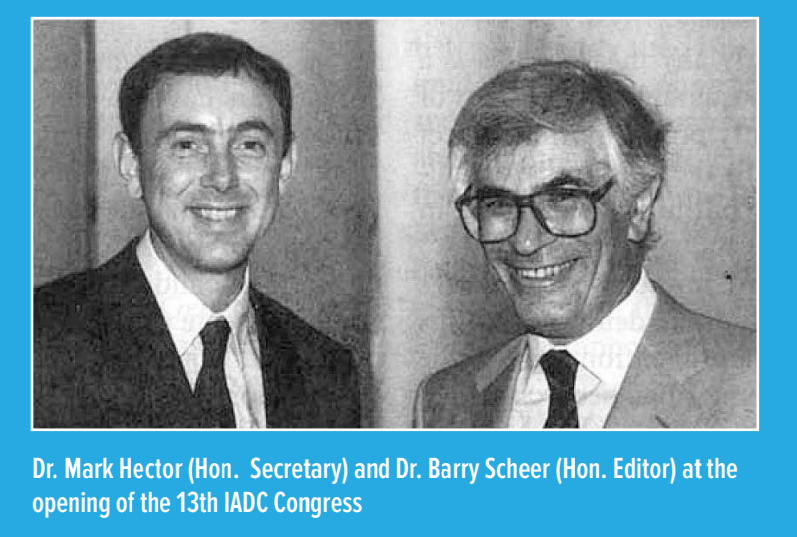 It is with great sadness that IAPD announces the passing of Dr Barry Scheer. He was a founding member of the British Society of Paediatric Dentistry and advocated strongly for the IADC /IAPD when he became Editor in 1989 and subsequently President of the IAPD in 2001.
IAPD extends heartfelt condolences to the family and loved ones of Dr Scheer.
Head over to our E-Learning section on the IAPD's website to stay up to date with the latest webinar recordings and the collection of over 200 videos in our Video Lecture Centre from past IAPD events! Watch this space: soon you will be able to obtain an e-certificate of attendance to build your Continuing Education Credits. 
Exclusive, IAPD member content only!! join us today for access
25 years of Bright Smiles, Bright Futures Award Winners 1997 - 2021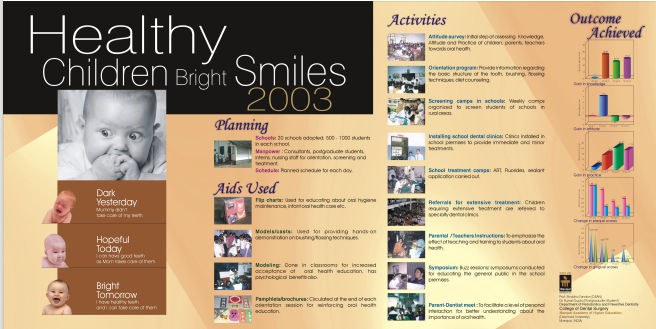 How did your project contribute to the improvement of children's oral health?
By creating awareness of oral health amongst children, their parents as well as teachers.
How many children were involved/reached?
15000
What changed during the years with your project while you were implementing it?
Awareness of the importance of oral health increased.
What were the main achievements of the project?
Dramatic change in their knowledge, attitude and practice habits. Reduction of prevalence of dental caries and a better gingival health status.
What did it mean to you to win the BSBF Award?
It was a great incentive to encourage students in improving their performance and understanding for caring for the oral health status of children.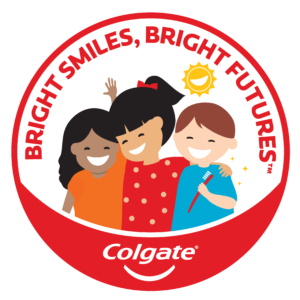 The award is presented on alternate years at the IAPD Congress for the best preventive oral health community program serving children.
The value of the Prize is 2000 US Dollars (two thousand dollars). In addition, there will be two runners up prizes of 500 US dollars (five hundred dollars) each.
This award is proudly brought to you by Colgate
Are You Ready for Upcoming IAPD Events?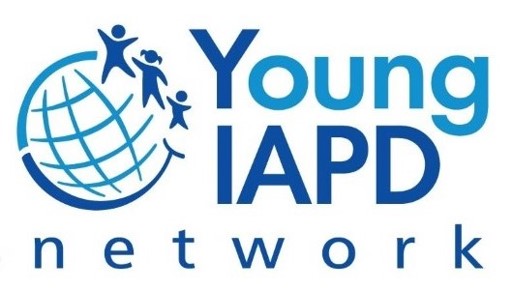 Are Bulk-Fill Composites Here to Stay?
Tues, 04 October 2022 | 14:00 – 15:00 UTC
YIAPD Network Webinar by Ivana Radovic
Behavior Guidance for Parents, a Need for the Pediatric Dentist
Sun, 23 October 2022 | 18:00 – 19:00 UTC
IAPD Webinar by Juan Boj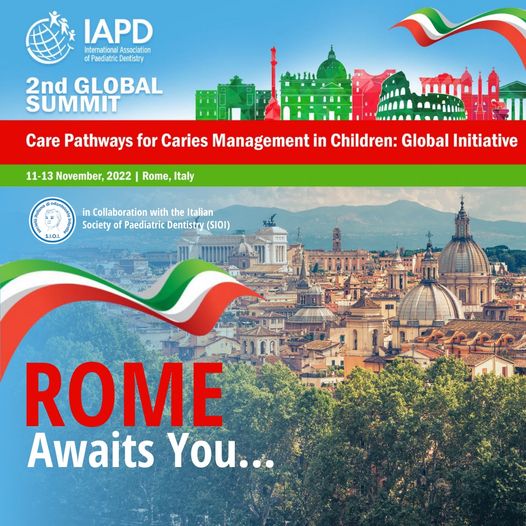 Rome, Italy
IAPD 2nd Global Summit
11-13 NOVEMBER 2022
Pathways for Caries Management of Children-Global Initiative
Highly acclaimed speakers from across the globe will participate in the IAPD 2nd Global Summit in Rome, Italy. Accepted abstracts will be published in the European Journal of Paediatric Dentistry! 
(in collaboration with the Italian Society of Paediatric Dentistry – SIOI)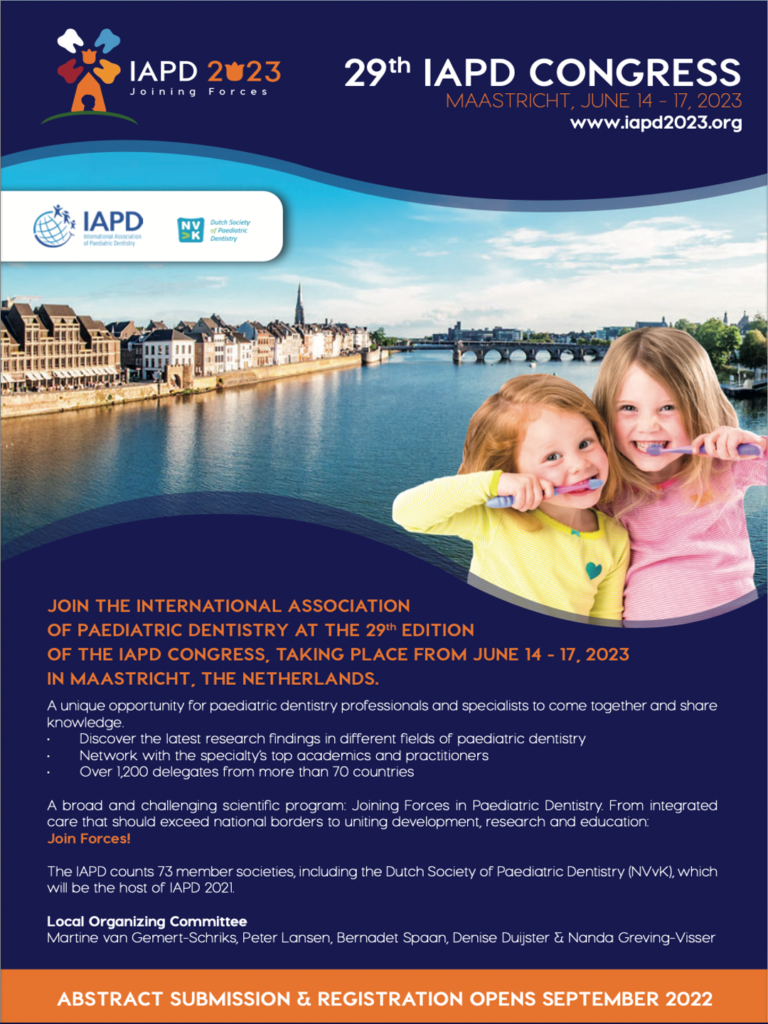 Maastricht, the Netherlands
29th IAPD Congress
14-17 June 2023
Joining Forces in Paediatric Dentistry 
The Organising committee of the Congress is
preparing
an exciting main program including several plenary sessions on how we can join forces in:
Prevention and behavior change
Caries management
Fighting the battle on sugars
Multidisciplinary care of oral anomalies in children 
And tackling oral health inequalities
(organised by the Dutch Society of Paediatric Dentistry – NVVK)